DMX (DocuMatrix)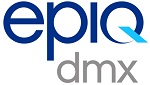 Our proprietary DMX software is a robust, highly-scalable processing, review, production, and discovery management platform that facilitates early case assessment, processing, and the most efficient review and production of eDiscovery data.
The DMX platform equips your team with essential discovery management tools to achieve efficient, intelligent processing, assessment, review, and production.
DMX processes more than 450 types of files, including email, business application files, instant messages, chat, Microsoft Sharepoint, audio, video, and drawing/CAD. DMX is engineered internally, allowing Epiq to quickly respond to the ever-changing eDiscovery landscape.
Advanced analytical features triage your data early in the discovery process, identify documents vital to your matter and enable you to rapidly eliminate documents that have no value, leaving you with a smaller, more focused data set.
Foreign language matters are simplified with the DMX platform's complete foreign language support. DMX's advanced features and customised workflows are fully integrated to support more than 195 languages. DMX also enables highly secure multi-party project collaboration.
Take the First Steps with
Epiq is the global leader in technology-enabled legal services, corporate restructuring, cyber security and business transformation solutions.

How We Can Help
My role is
and I'm looking for