Fireman & Company, an Epiq Company
Data-Driven Strategy
and Change Management
Our team helps the world's most successful law firms and corporate legal departments achieve performance excellence by developing and implementing data-driven strategy, technology, and change management initiatives. Fireman & Company team members have decades of experience as leaders in the industry, working as attorneys, CIOs, CKOs, and experts in Knowledge Management (KM), legal project management, process improvement, and pricing.
We deliver these services across the full KM core competencies, including data management, document management, intranets, enterprise search, experience management, and artificial intelligence (AI). Working with our clients, we craft innovative solutions to their practical business problems and help them achieve their strategic business goals.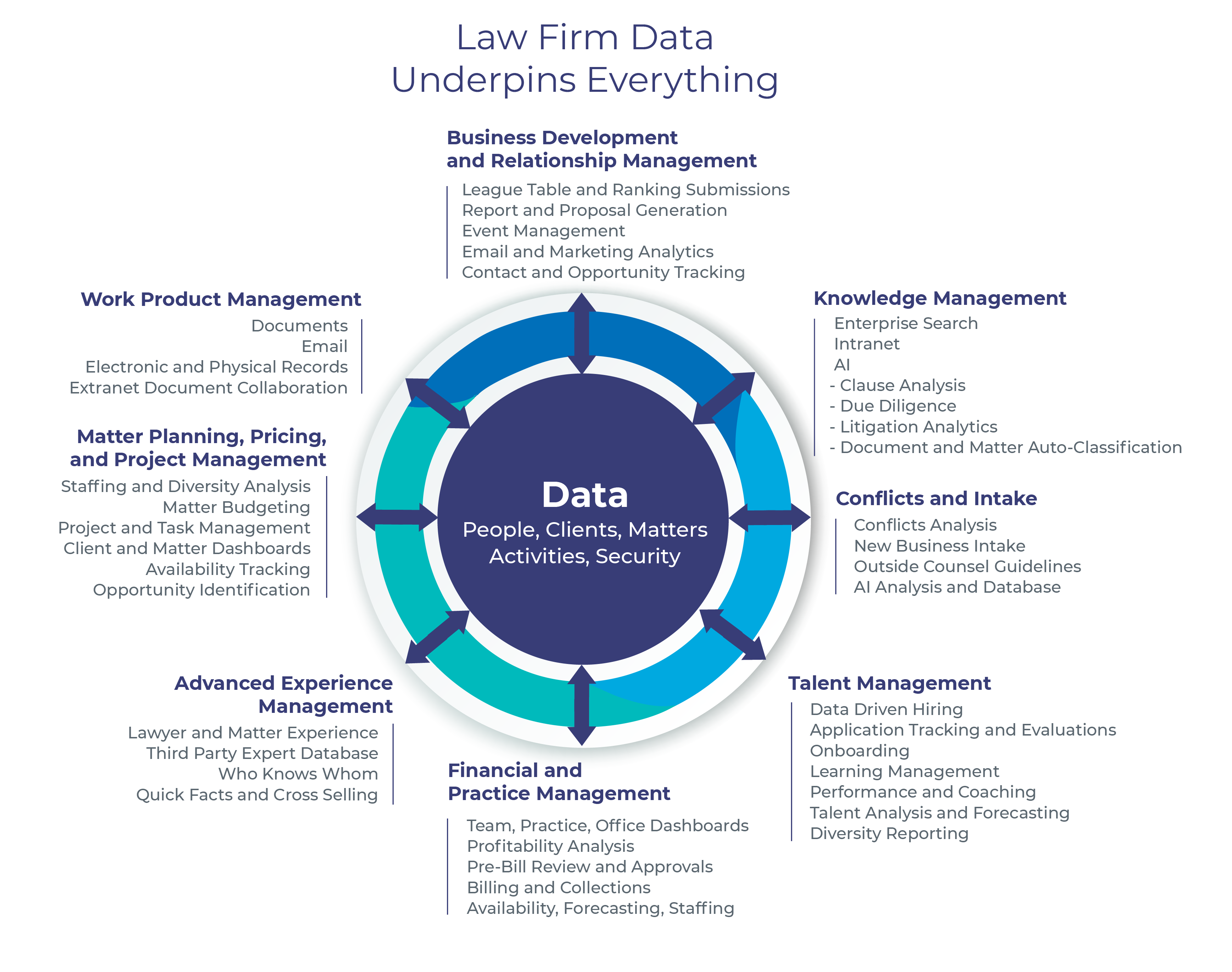 Epiq Extranet for Teams is a secure legal workspace integrated within the Microsoft tech stack facilitating secure collaboration between law firms and corporate legal departments. It supports sharing documents and screens within a workspace, similar to the ease we experience when working with internal colleagues.
Advisory
Law firms value trusted advisors that help them plan strategically for the future and establish near-term achievable directions consistent with their vision. We understand the complex interconnections between people, process, and technology in all KM initiatives. We ensure that planning and decision-making include all dimensions, avoiding the common trap of over-emphasising technology. We also help firms anticipate the full range of changes required for success and ensure they include change management provisions in any initiative planning. Because our advice is holistic and nuanced, our clients trust us to guide them through the complex decision-making processes to achieve KM success.
KM STRATEGY PLANNING
KM AUDIT AND COMPETITIVE BENCHMARKING
KM OPPORTUNITY ASSESSMENTS
KM ORGANISATIONAL DESIGN
CKO SEARCHES
KM TEAM DEVELOPMENT
INTERIM KM LEADERSHIP
LEANLEGAL™
Applied AI
We take a practical, no-nonsense approach to law firm business processes and supporting technologies, identifying where AI and AI-powered tools can enhance your organisation's ability to serve your clients. We help you target the initiatives, products, and technologies that will put you on the road to AI-enabled process automation and provide insight and support to the talented people that power your firm. We work with you to identify which AI solutions are both feasible and will deliver the most value. We also help you understand the full scope of the work required to implement your AI solutions, including training, data set identification, change management, and technology. And finally, we help you build a roadmap to deliver your AI solutions successfully.
AI SOLUTION DESIGN AND PLANNING
ART OF THE POSSIBLE WORKSHOPS
AI EDUCATION AND TECHNOLOGY REVIEWS
AI READINESS ASSESSMENTS
AI USE CASE DEVELOPMENT WITH PLATFORM MATCHING
DATA ARCHITECTURE AND PREPARATION FOR AI SOLUTIONS
Strategy and Change Management
Law firms need change management practices designed to improve the adoption of processes and technologies. Poor adoption exposes law firms to risks, including information governance and security enforcement gaps, lost institutional knowledge, and an inability to effectively manage client matter files and work product.
Users adopt change when they understand the utility and value of a product or process. We offer best practices, including a multi-phase adoption framework that accounts for differences amongst users, practices, and regions.
BUSINESS REQUIREMENTS ANALYSIS
SOLUTION SOCIALISATION
CHANGE MANAGEMENT AND ADOPTION PLANNING
CURRICULUM DEVELOPMENT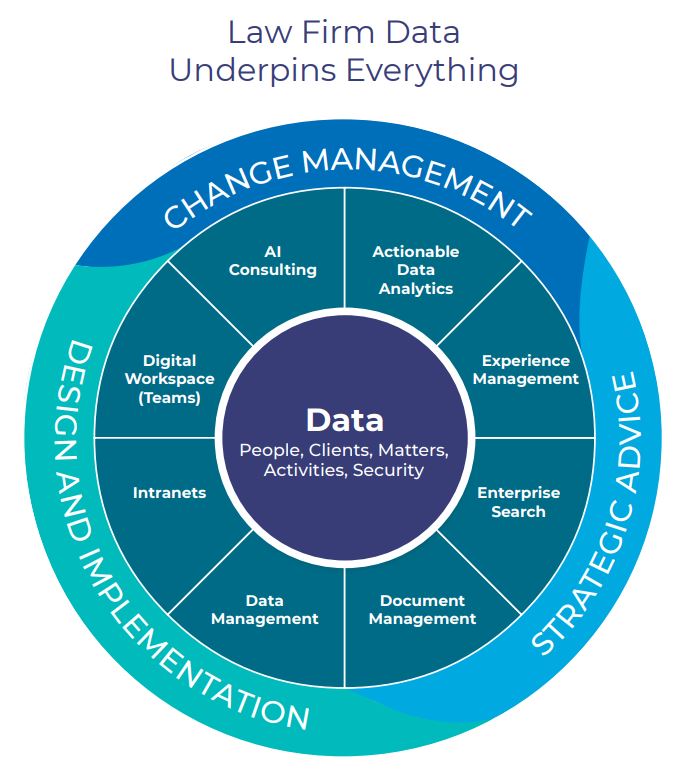 Data Management
Data underpins everything within a law firm. Law firms need data foundations that enable their advanced goals for AI, KM, pricing and budgeting, experience management, business and competitive intelligence, and more. Data centralisation is the missing link to success in these areas. Our cloud-based data platform approach to mining and leveraging your data takes advantage of your existing technology and delivers results in months, not years. We build modern data platforms housing clean and consistent data that enables your firm's application and information needs, helping you break out of traditional, problematic, application-specific data silos to unlock your data.
DATA AUDIT
AI READINESS ANALYSIS
DATA ANALYTICS AND MATURITY
DATA GOVERNANCE
DATA SCHEMA AND TAXONOMY DEVELOPMENT
DATA PLATFORM REQUIREMENT, DESIGN, AND BUILD
DATA WORKSHOPS
CODING UNSTRUCTURED DATA
REPORT AUTOMATION
NATURAL LANGUAGE AND CHATBOT INTEGRATION
Document Management
Over the last five years, law firms and their clients have become more comfortable moving key systems and data to the cloud. The largest shift in this regard has been the move to cloud-based document management systems (DMS). A modern DMS is core to productivity, information governance, security, and collaboration. We partner with the world's leading law firms to select DMS platforms, design these systems to be practice-centric, implement the DMS, and lead comprehensive change management programmes.
We focus on long-term change and collaborate with clients to develop sustainable, internal change management programmes. We partner with the two leading DMS providers, iManage and NetDocuments, and in 2022 we were named iManage's large law firm Partner of the Year.
We combine our deep technical experience with a comprehensive knowledge of practice use cases, workflows, and information governance to offer best-in-class solutions that combine people, process, and technology. Partner with Fireman to unlock the power of your firm's data.
BUSINESS AND TECHNICAL REQUIREMENTS GATHERING
PRODUCT EVALUATION AND PLATFORM SELECTION
IMPLEMENTATION STRATEGY AND PLANNING
PRACTICE-CENTRIC WORKSPACE DESIGN
IMPLEMENTATION AND CLOUD UPLIFT
ADOPTION AND CHANGE MANAGEMENT
Intranet
Our clients want persona-driven, practice-centric intranets; platforms that improve the business and practice of law. As the market leader in intranet design and delivery, we work with you to design intranets that drive vital, actionable information from critical firm systems and provide summaries that will become a focal point for your lawyers' daily activities. Our award-winning, world-class team has a proven track record of building intranets that lawyers find essential, love using, and give them a real competitive advantage.
INTRANET DESIGN WORKSHOP
REQUIREMENTS GATHERING
REQUIREMENTS DEFINITION
PERSONA DEVELOPMENT
CONTENT MIGRATION AND CONTENT MANAGEMENT
FINANCIAL DASHBOARDING
WORKFLOW AND TASK MANAGEMENT
IMPLEMENTATION SUPPORT
MICROSOFT TEAMS EXTRANET DEVELOPMENT
HYBRID DIGITAL WORKSPACES (INTRANET + TEAMS + INTEGRATIONS)
Enterprise Search
Fireman & Company's industry-leading practice has developed a proven, proprietary methodology for successful enterprise search design and implementation. Our extensive consultations with hundreds of legal practitioners, support, and IT staff each year provide unparalleled insights into what users need. We partner with market leaders such as iManage, Aderant, and BA Insight and regularly evaluate new technologies and approaches to enterprise search. Our strong relationships with search technology vendors provide us with previews and insights into where the next generation of search technologies is going. Trust in our award-winning, market-leading experience to help you deploy your enterprise search system and develop an adoption strategy that ensures success.
REQUIREMENTS DEFINITION
USE CASE DEVELOPMENT
PRODUCT EVALUATION AND VENDOR SELECTION
TECHNICAL AND UI DESIGN
IMPLEMENTATION PLANNING AND SERVICES
DATA HYGIENE SERVICES
TECHNICAL RESOURCE TRAINING
POST-IMPLEMENTATION SUPPORT
Experience Management
Law firms need to leverage their collective and individual experience. This knowledge powers business development, pricing, engagement resourcing, collaboration, cross-selling, and knowledge management. As Litera Foundation's first partner, Fireman & Company has implemented the Foundation experience management solution since its inception- delivering process and data-driven solutions that allow law firms to optimise their people and experience to drive revenue, productivity, and profitability. We are alone in the legal industry in offering a combination of data, process, technology implementation, and change management services to support the integration of experience management across multiple functions in our client law firms.
PLANNING AND USE CASE DEVELOPMENT
MASTER DATA MANAGEMENT AND DATA HYGIENE
PLATFORM SELECTION
SYSTEM INTEGRATION
FOUNDATION SOFTWARE IMPLEMENTATION
ENTERPRISE SEARCH INTEGRATION