Epiq Provides IP Contract Analysis for Rights Migration
Client need
The client was migrating from multiple home-grown systems to an industry leading IP rights management system. The client's existing systems did not have the capability to capture all of the conditions attached to the client's licenses. Each royalty rate loaded into the new rights management system needed to be attached to a unique combination of rights, not all of which were captured in the existing systems. Without differentiating these rights, the client was unable to migrate its data.
Why Epiq
Epiq's Contract Review and Analysis team has over 30 years leading and managing complex, large-scale contract reviews. Our approach leverages leading third party and proprietary technologies, a scalable team of Contracts Review Legal Analysts and Epiq's global infrastructure.
Epiq Solution
Epiq extracted, reviewed and analyzed information from the contracts relating to all five categories on the client's rights tree: Product, Property, Channel, Territory, and Language. Epiq performed a complex data analysis exercise to identify contracts whose royalty rates were impacted by data points not captured in the client's current system. Epiq also identified specific elements within the five categories that did not match nodes on the client's future rights tree and provided the client with suggested mapping for these elements.
Results and Benefits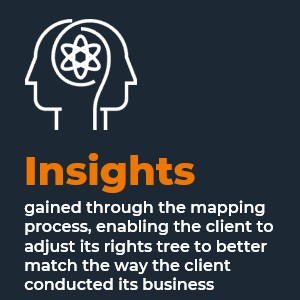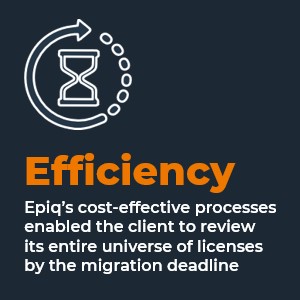 Learn more about Epiq's Contract Management Solutions
Back