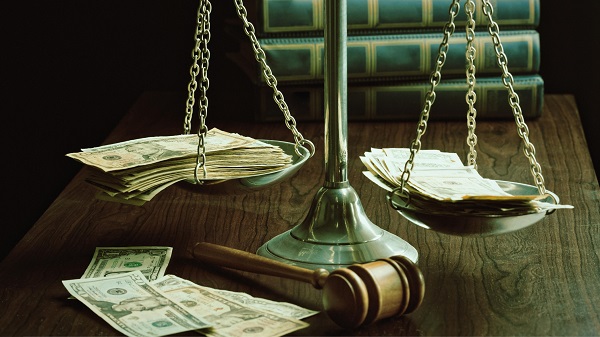 Current Trends in Legal Spend – Where do ALSPs Stand?
As the legal industry continues to embrace new technologies and business partnerships, organizations are taking a closer look at legal spend. Getting better visibility and insight into where hidden savings exist help drive action towards cost-saving opportunities like automating contract analysis, outsourcing document review to an alternative legal service provider (ALSP), leveraging preferred provider firms for specialization, and hiring flexible legal talent to augment their permanent legal staff. So, what tools are organizations currently adding to their legal budget? The Corporate Legal Operations Consortium (CLOC), a global community dedicated to the business of law, just released a report that helps answer this question.
The "2021 CLOC State of the Industry Survey" reviews how organizations are prioritizing their legal spend. The report is includes responses from 200 organizations, of all different sizes, spanning over 22 industries, and 21 countries. The responses to CLOC's research indicated a significant increase in legal spend with a primary focus on legal transformation. Some key trends include doing more work in-house and needing more automation for legal processes. As legal operations teams expand, the greater focus is aligning legal with business to boost efficiency and make smarter investments. All of this helps better manage costs and risks, while still producing a quality (and often superior) work product that greatly satisfies clients.
The Legal Spend Numbers
The CLOC report included data from 2020 but recognizing how those results changed from the prior year helps reveal the real story of changing legal departments. Here are some crucial stats from the survey that illustrates the trend toward a more operational and business-centered approach to legal practice, with a concentration on where ALSPs fit into the puzzle:
Legal spend is increasing year over year. As a percentage of overall revenue, the report showed a 1.42% average. This was up from 1.12% legal spend as a percentage of overall revenue.

More work is moving in-house. External legal spend as a percentage of total legal spend declined from 61% in 2019 to 50% in 2020.

Legal technology spend, on average, has more than doubled from the previous year's report.

Although ALSP spend still represents only a small portion of total legal spend (approximately 3%), adoption within legal departments is increasing. On a year-over-year basis, overall ALSP spend as a percentage of total legal spend increased by almost 30%.
Interpreting the Data
The fact that the CLOC survey exists, has a high participation rate, and contains rich data, is itself a metric to measure of how important managing legal business has become. It is exciting to be part of an industry undergoing such transformation across its people, processes, and technologies. As one of the largest ALSPs and a proud supporter of the 2021 CLOC Institute, Epiq understands that the changes being measured by CLOC are represented within our 1000 corporate clients, so we stay focused on what this data means and how we can continue to help our clients innovate through these changes.
We are keenly aware that corporate legal departments are increasingly looking towards right-sourcing, or unbundling, their legal work. Whether that means adding flexible talent lawyers to support their in-house teams, expanding their use of ALSPs to provide increasingly complex legal work, or automating work through technology, the trend of shifting work is accelerating. Organizations are reviewing their legal data – both financial and performance – to assess which firm, provider, or person delivers work the best, the fastest, and the most cost competitively. We expect a continued emphasis on data to drive informed decisions about where to source legal work.
Benefits of Alternative Legal Service Providers
Although ALSP spend is a small fraction of overall legal spend, that number is growing. The uptick is certainly a validation of ALSPs as a key supplier in the legal ecosystem, but it is also an indicator that ALSPs are being thought about differently by the market. On the first point, the ALSP market has started to mature, with large incumbents like Epiq being joined by newer providers, and together as a group offering a variety of services, technology, and consulting delivered across the world to meet the needs of the market. The maturation and growth of these large, trusted providers will increase ALSP visibility, improve perceptions, and continue to expand their footprint in outside legal spending.
On the second point, ALSPs are now servicing more than just basic outsourcing work. The old school 2x2 value matrix – send your low risk/low value stuff to a legal process offshoring company – is being rethought by law departments. Increasingly, GCs are asking ALSPs to help them stretch beyond the basic work, apply their expertise in legal process engineering, and help them solve more work within their departments.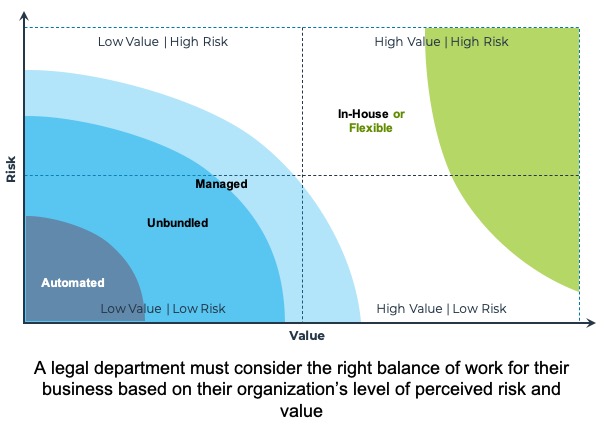 The numbers show that the legal industry is still in the beginning stages of learning how beneficial ALSPs are and that there is a continued opportunity to change how legal departments operate. The statistics indicate that this is where the market is going, as legal operations teams are learning what work makes the most sense to outsource.
Looking Ahead
COVID forced organizations to move remote in an extremely short period of time, while remaining operational. This has changed the modern work environment and accelerated the adoption of ALSPs. Going forward, the expectation is that both the overall total, and the proportion of ALSP spend, will continue to increase after organizations have seen how successful the partnership can be.
In order to accommodate this new modern way of working, ALSPs have broadened their service offerings. There is an anticipated uptick in their use for contracts review and expanded roles within the discovery lifecycle.
ALSPs are being engaged to deliver work more creatively, as dedicated "centers of excellence" that provide flexibility for the ebbs and flows in demand but maintain expertise within the organization. This is extremely compelling for organizations that need more staff for defined periods.
A new focus on sourcing talent where the talent resides, rather than where the office is located, means greater access to resources on contract, semi-permanent, or dedicated models. Being able to pull in contract attorneys or support staff on a project basis eliminates the need to hire new, in-house staff or increase the budget allocated for the department's law firm partners, while still receiving a quality work product from an expert in the given project area. A strong ALSP partner to help support these solutions is a useful extension to your talent sourcing strategy.
The changes witnessed in 2020 and 2021 have given law departments a chance to re-think how legal work is delivered. ALSPs have expanded their capabilities to support clients across a variety of needs. Although still a small portion of overall outside legal spend, the results of the CLOC survey indicate the question on whether the use of ALSPs makes sense has been answered. But hopefully this year will shed light on the new question – how to grow the use of ALSPs.
If you enjoyed this blog, please click here to read more about reducing legal costs.
Subscribe to Future Blog Posts
Article
Regulatory & Compliance
3 Mins
---
Article
Business of law
3 Mins
---
Article
eDiscovery
4 Mins
---