Results
Epiq helps a leading global law firm establish a global eDiscovery technology stack and processes
client need
Expand infrastructure and systems globally

The company's legal department needed to replace its EOL on-premises solution. They did not want to continue hosting onsite due to several failed backup data copies and the increased cost of supporting an eDiscovery environment.
why Epiq?
The firm previously had a great experience with Epiq in the United States for managed services, and Epiq's global footprint made Epiq the obvious choice for the expansion.

Epiq solution
High quality, consistent technology around the world

The firm utilized Epiq's Managed Services globally for a unified global workflow with a focus on process efficiency and leveraging next-generation technology. The solution provides enhanced infrastructure in the United States and expanded capabilities across the globe including data centers in the UK, Germany, Hong Kong, Tokyo, and Singapore with appropriate infrastructure and processes. Epiq provisioned 24/7 customer support with subject matter expertise in each region, ensuring technology and infrastructure stacks were consistent globally, including NexLP and Brainspace environments for AI-based processing, dedicated SFTP/ Production workstations, and Arq Relativity hosting.
results and benefits
Client Quote: " We needed to ensure we could offer global clients a consistent and high quality level of eDiscovery services. Epiq helped us scale our infrastructure, technology and processes to a consistent quality for our clients worldwide."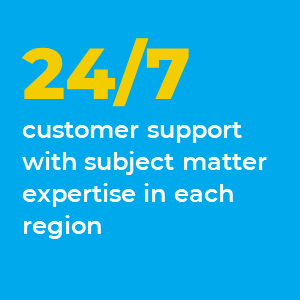 Learn about how Epiq's eDiscovery Managed Services can help you
Back