IPBM Decision Support: Using Metrics For Operational Success
Information governance
3 Mins
A key component of IP operational maturity that we have been describing in this series is the recognition of the vital role data plays in operational success. Today's business environment demands high performance while consistently reducing costs. The use of data to enable the general counsel and chief IP counsel to make informed and timely decisions is essential. The creation of quality data streams, appropriate data models, and the use of visualizations provide the vivid, actionable intelligence that executives need.
What began as buzz has exploded into near-universal demand. At the heart of the surge is the use of Key Performance Indicators (KPIs), providing stakeholders with real-time insight into current activities and informing strategy adjustments in the management of intellectual property portfolios. As we often say, you can't master what you don't measure. Mastery comes from careful planning and collaborative discussion at the front end of developing an analytics program. Not surprisingly, recent Hyperion benchmarking reveals that most organizations have introduced a handful of KPIs or have launched full-fledged decision-support analytics programs.
The appetite for data-driven decision-making by law departments has resulted in metrics that cover value, process/efficiency, outcomes/results, and comparative benchmarks— extending far beyond spend and budgeting.
Performance Metrics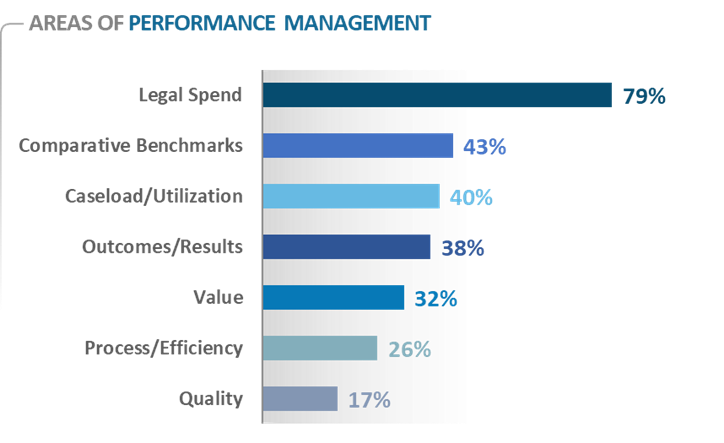 In the quest for operational maturity, organizations have begun to pinpoint strategies that propel value and create KPIs that support those strategies. The figure below demonstrates how KPIs can reflect organizational values and serve as actionable intelligence for both defining performance and measuring success. KPIs enable IP leaders to have informed discussions with their business peers and make decisions about where to best invest organizational resources.
Understanding the Drivers of Value in IPBM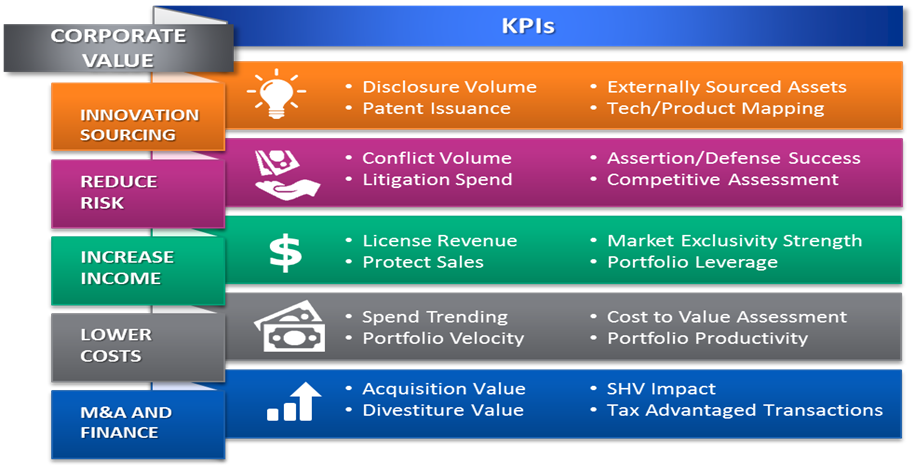 Not only has the breadth of KPIs expanded, but so has the audience. It is not just the general counsel, chief IP counsel and senior attorneys consuming IP KPIs for spend and outside counsel management—the traditional reporting lines—but our benchmarking shows high levels of stakeholder involvement across functions. Legal performance management rarely involves a single, insular constituency, and operationally mature departments understand the collaborative power of a diverse audience.
Performance Reporting – Diverse Stakeholders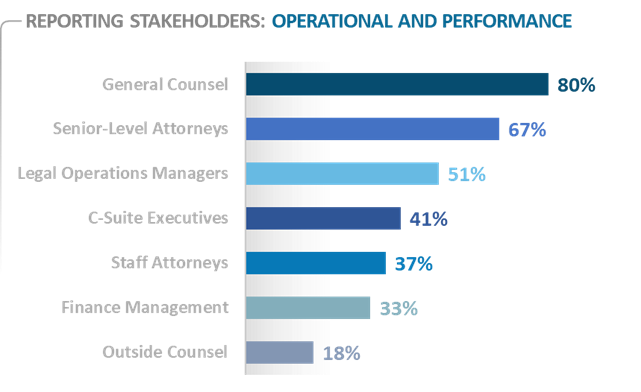 Even as the creation and utilization of KPIs and related metrics continue to grow rapidly, this is still a developing discipline. Obstacles to quality reporting still exist, with roughly half of respondents attributing these challenges to a lack of tools, metrics, or data. This finding is wholly consistent with the lackluster use of technology discussed earlier in this series and offers color to the story of frustration with technology in today's market.
Major Obstacles to Measuring Performance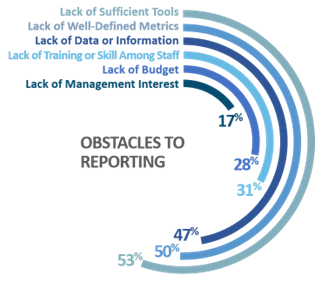 The next and final installment in this series will provide our analysis of the evolution of outsourcing services and practices
The contents of this article are intended to convey general information only and not to provide legal advice or opinions.
Subscribe to Future Blog Posts
Article
Regulatory & Compliance
3 Mins
---
Article
Cyber Breach
4 Mins
---
---