IPBM: The Unifying Framework Behind IP Management
Information governance
3 Mins
The first two installments in this series explained the evolution of the Intellectual Property Business Management (IPBM) model, noting that it is not a platform or "collaboration portal," but rather a paradigm designed from the ground up to engage stakeholders when they are needed in the IP management process. IPBM is driven by the technologies that support legal operations and performance.
Hyperion benchmarking data shown below demonstrates that an IPM system alone does not address the breadth of needs of an IP organization.
Technologies Used to Manage IP Assets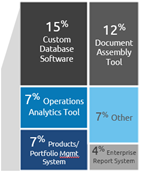 While 69 percent of IP practices leverage an IPM system, and another 62 percent use traditional docketing software, we are surprised by the breadth and diversity of other tools the market leans on to marshal data and drive decisions. E-Billing software, central to outside counsel participation, is as prevalent as Docketing software. The market is clearly manifesting a need for an array of tools to capture, nurture, manage, protect, and defend intellectual assets. Yet organizations overwhelmingly address these needs with a "whack-a-mole" approach, acquiring technology to address a specific, narrow need when a challenge arises.
However, help is on the way! IPBM can present a unifying framework that allows organizations to understand their holistic information management needs and address them in a cross-functional manner. IPBM combines innovation, legal and business information to provide powerful insights into the complex relationships that exist between these departments. This model provides inputs for the elusive ROI assessment on which both business and IP leaders depend to make investment trade-off decisions.
In addition to the range of tools employed in end-to-end IP lifecycle management, a trend among leading IPM vendors examined in the 2022 Hyperion Intellectual Property Management MarketView™ report is the diversification and sophistication of capabilities in the IPM system itself, which provides clients with access to the widest range of functionality possible. One notable example is Anaqua's integration of AcclaimIP's patent search engine technology into Anaqua's AQX software, a solution-set that is not only compelling but also directly addresses the 54 percent of the market that uses patent search tools as essential technologies.
Leveraging Workflow & Automation Tools
IP organizations are actively investing in workflow and automation tools in the form of both integrated IPM point systems [integration of workflow technology is covered throughout the reportl], and standalone Business Process Management tools for administrative workflow, such as invoice approval, as well as practice-based task management, including automated and specialized docket entry. As shown below, most of the market has invested in workflow and automation tools to support operations. Nearly two in five IP organizations characterize their investment in workflow and automation as "heavy,". Adoption of process automation is deeply ingrained in the market with more than 80 percent of organizations having invested in some workflow and automation tools.
IPM Investment in Workflow and Automation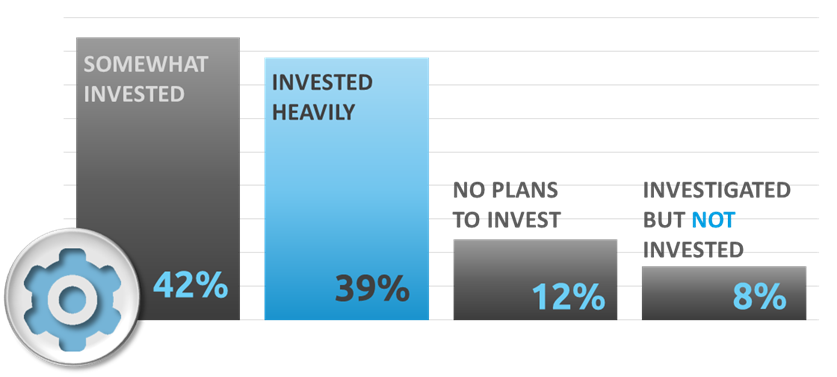 The graph below shows the drivers in workflow investments. Sentiments are strong and unequivocal, with Process Quality, Consistency and Productivity reported as the highest (and statistically significant) drivers.
The Drivers for Investment in Workflow and Automation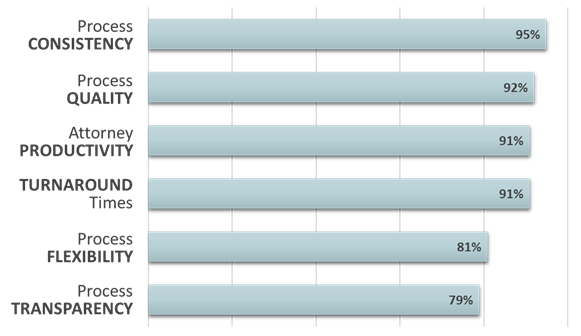 Collectively, these categories can be summed up in a single word: efficiency. Efficiency, in the IPBM context, heavily rests on "operationalizing insight," and the stated goal of broadening an IP operation's capabilities to align strategy, process, and organizational dynamics. Hence, a connection is drawn between the next-generation IPBM paradigm and the incorporation of tight, succinctly defined uses of workflow and automation.
In the next installment of this series, we will focus on using metrics for operational success.
Subscribe to Future Blog Posts
Article
Regulatory & Compliance
3 Mins
---
Article
Cyber Breach
4 Mins
---
---