Results
Leveraging existing technology systems for global IP Management
client need
IP Operational Management
After growing its IP practice aggressively and making significant technology investments, an AmLaw 100 firm found itself struggling with a lack of coordinated and cohesive IP governance, with pervasively fragmented processes that impacted data and process integrity.
why Epiq?
As experts in complete IP Lifecycle Management, the client chose Epiq to implement best practices to realize exponential practice management gains, from tactical, day-to-day operations to the most strategic levels in the organization.
Epiq Solution
Implement a global IP Lifecycle management program
Epiq's Legal Business Advisory team assessed the operational and technical requirements of the client's IP practice by interviewing 115 stakeholders across its 24 international offices, uncovering that each office had different IP management standards and procedures. Additionally, we identified over 15 proprietary IP applications that were incongruent and lacked any integrations, leading to widespread functional gaps. A program was then implemented that made better use of existing technology systems, maximized investments, and implemented a multi-lateral governance structure for IP Management.
results and benefits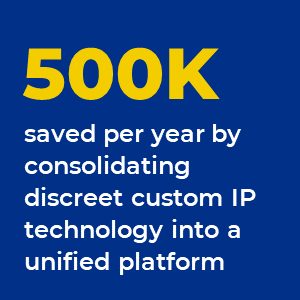 Learn more about our Legal Business Advisory Services
Back