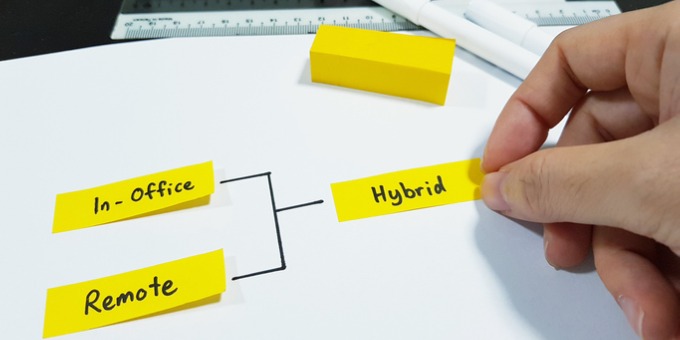 Supporting the Hybrid Work Environment: Three Market Trends
Business Transformation
3 Mins
The business world has changed drastically over recent years. A hybrid work model is now the new norm – especially in corporate settings. The virtual trend is even emerging in industries such as legal and healthcare which have been traditionally and exclusively in-person. Such widespread change creates opportunity for organizations to transform operations, unlock transformation, and maximize technology usage. Such transformation is necessary to continue successful operations, maintain revenue streams, and create a positive company culture accounting for varying working styles. Being cognizant of technology and outsourcing trends will help organizations decide the best route to effectuate meaningful change. Here are three emerging trends to monitor that support hybrid working models.
Leaders are reimagining the role of the physical office.

For many corporations, employees are working remotely full-time or on regular schedules. With fewer people coming into physical offices, operations leaders are having to reimagine and strategize what the space should look like to accommodate working trends. Factors to evaluate include employee schedules, remote policies, and the purposes for working onsite. Moving away from the traditional office model can look like increasing shared spaces, downsizing, or eliminating the physical office altogether. This leaves operational gaps that leaders must address in their hybrid programs and outsourcing budgets. All of these factors will fuel the vision for an innovative office model that promotes effective collaboration and accounts for current company culture.
Industries historically resistant to change are accelerating transformation efforts.

Before the pandemic, hybrid work models were available, but they were generally limited to industries known for early tech innovation or organizations trying to get ahead of the curve. Now, virtual offerings are everywhere – even in unanticipated settings like a law firm. The pandemic forced people to realize the benefits of virtual offices and tools, resulting in a focus on how to be more effective and efficient through intentional investments. This is a significant historical shift that will permanently change the way people work across the globe and render it easier to embrace change in the future.
Organizations are being more intentional with outsourcing.

Successful transformation during a time of change requires an approach that improves processes and increases productivity. How this is achieved will look different for every organization and should evolve alongside progressive goals and company culture. Oftentimes, outside partners are an efficient and cost-effective way to carefully craft the right strategy and then achieve said goals. A service provider can leverage expertise to pinpoint where change is needed and implement optimal solutions. In a hybrid environment, it often makes sense to outsource certain functions previously not considered. For example, many organizations have prioritized outsourcing digital mailrooms, document processing, AP/AR Billing, and administrative functions. While it is not a new concept to move these functions outside the enterprise, it is becoming more commonplace in the hybrid work environment as the role of the physical office changes.
Conclusion
The shift to hybrid work requires leaders to be creative and bold so that they can focus on which tools and processes will foster efficient and effective operations. Being aware of market trends and what employees need to foster efficiency when working remotely will help create successful and sustainable hybrid programs. As the hybrid work model continues to evolve, organizations should continue to keep tabs on alternate approaches, innovation occurring in industries relevant to their operations, and compelling outsourcing opportunities.
If you enjoyed this blog, consider reading our whitepaper called How the Hybrid Work Environment Unlocks Business Transformation Opportunities.
The contents of this article are intended to convey general information only and not to provide legal advice or opinions.
Subscribe to Future Blog Posts
Article
Regulatory & Compliance
3 Mins
---
Article
Cyber Breach
4 Mins
---
---