Advice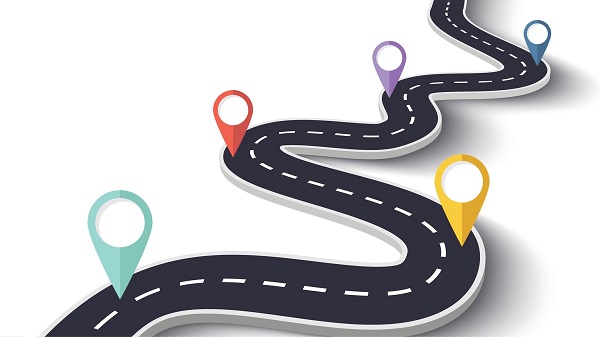 Creating a Future-Proof Legal Technology Roadmap
Driving technological efficiency is a continuous process for Legal Operations. There's a strong desire to move beyond fragmented tools to achieve much more dynamic and integrated ways of working. The primary legal operational paradigm of the modern era has really been that we do work in one system then must go to another to tell it we did that work. "How do we ensure that the right work is in the hands of the right people?" "How do we leverage information from one silo for the work we do in other silos?" These are the fundamental challenges that legal operations leaders are grappling with.
ALM recently published excerpts of a conversation with Catherine Moynihan, newly-appointed Managing Director of Epiq's Strategic Intelligence and Advisory team, about trends in legal operations. Here we expand on the conversation, showing how building a legal technology roadmap with the end in mind leads to improved operational performance management.
WORKFLOW AND AUTOMATION ARE KEY PRIORITIES
Sophisticated legal departments are constantly looking for ways to improve consistency, quality, productivity, velocity, flexibility and transparency. And what lawyer wouldn't want all of those attributes? It's about improving the daily working life of corporate legal staff – making their jobs more rewarding while also better serving the corporation. This is why, when we surveyed over 200 corporate legal departments, we saw a strong focus and investment in workflow and process automation, along with system integrations and the flow of information, to improve the legal experience - which in turn accelerates adoption.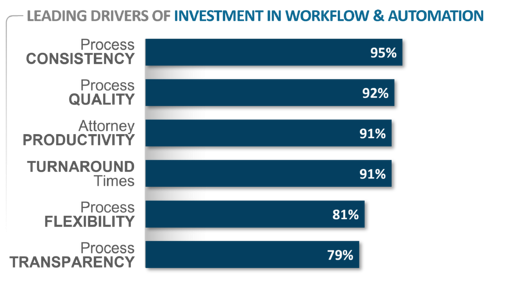 Recent Hyperion Research market studies found that the top technology category in which Legal Operations Managers plan to invest in the next 12-24 months is workflow and automation, followed closely by contract management systems, which of course are fundamentally workflow-driven systems.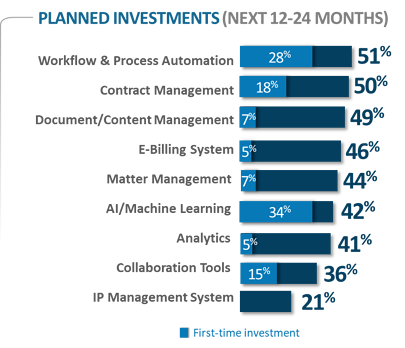 Why? Because every legal department wants to reduce the friction that comes from working in and supporting an average of eight or more legal practice applications. More important, workflow systems that route the right work to the right person, gathering key information and assembling documents along the way, enable in-house lawyers to focus where they should – on nuanced legal issues rather than administrative processes.
ROADMAPS THAT LEAD TO IMPROVED PERFORMANCE
When creating a legal technology roadmap, it's important to focus on generating momentum – and data to inform continuous improvement. Some tips:
Before crossing the starting line, capture baseline KPIs such as cycle times, person hours, and costs – even if the metrics are rough and gathered manually.

Establish a starting point you can show improvement - any improvement - against.

Make sure each new system you implement is done so in a way that can generate usable data to show improvement in key performance metrics.

Don't neglect data categorizations and reporting in your technology evaluations.

Address key pain points first to build acceptance of new ways of working, build momentum and advocacy, and even generate savings to fuel additional investments.

The "low hanging fruit" are low cost/effort capabilities with impact on day-to-day activities.

In later stages, integration across systems will be key, so build with those capabilities in mind.

Actionable information flows across systems and stakeholders.

Note that integrations will take several forms – across applications in Legal and with enterprise business applications, and with data from multiple sources (you may need a tool for that too).
As data begins to accumulate, it can be tempting to get carried away – be sure to focus on actionable metrics. Are we generating savings? Reducing risk? Cutting cycle times? And importantly, what insights can we glean from the data to directly drive performance?
Don't underestimate the importance of change management.
We're seeing adoption processes become more sophisticated, and clear cross-functional change management plans are the heartbeat of sustaining any legal transformation program. Hyperion benchmarking has found that the key to widespread technology adoption is usability and approachability. Legal staff are now working in more dynamic and mobile environments, and they want a uniform experience across all platforms, along with real-time access to actionable information to support decision-making wherever and whenever it needs to occur. When the technology does not meet those fundamental needs, we see adoption rates plummet and investments squandered.
Begin with the end in mind.
Think about sequence, pace and the user experience to maximize adoption. Visualize a state in which you have the reporting you need to pinpoint trouble spots, such as chronic negotiation breakdowns, approval hang-ups, or non-compliance with policies and procedures. Then you will have not only the interconnected tools, but also the necessary information to make adjustments, flow faster and provide better legal services, ensuring a happy, high-functioning legal team.

By Catherine J. Moynihan, Senior Director, Strategic Intelligence & Advisory for Epiq's Legal Business Advisory Group overseeing Hyperion Research, Epiq's legal market intelligence program, as well as spearhead legal advisory intelligence programs for global legal executives focused on legal operations transformation.
The contents of this article are intended to convey general information only and not to provide legal advice or opinions.
Subscribe to Future Blog Posts

---

Advice
Legal Operations
2 Mins
---

---