Angle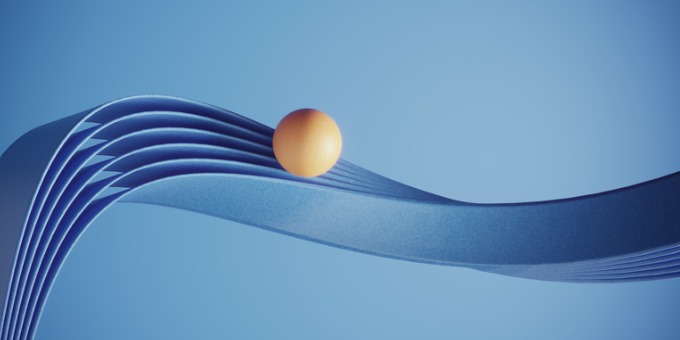 The Rise of Managed IP Services
As Chief IP Counsel and in-house legal teams contend with the increasing pressures facing their organizations in the wake of COVID-19, there is an urgent need to rethink legal operations. While the move to digitize and automate the legal function was already underway before the pandemic, it is now a commercial imperative, and the scope and remit is wider than before.
Intellectual property has been at the core of the transformation of legal operations. In addition to the range of tools employed in end-to-end IP lifecycle management tools examined in the 2022 Hyperion Intellectual Property Management MarketView™ report , IP management teams have been the beneficiaries of a diverse arsenal of services that enable them to make better and more thoughtful use of available resources and to extract value from intellectual property assets.
The availability of services and software enable Chief IP Counsels the opportunity to outsource, or to perhaps insource, discrete parts of the IP asset management lifecycle. These decisions require reassessing the balance of resources within an IP organization, which is an ongoing challenge. Decisions will invariably impact the IP department's management of human-capital. This may involve increasing or decreasing headcount, but importantly it is about making better and more thoughtful use of available resources.
The figure below describes how law departments intend to balance their resources during the next 12-24 months.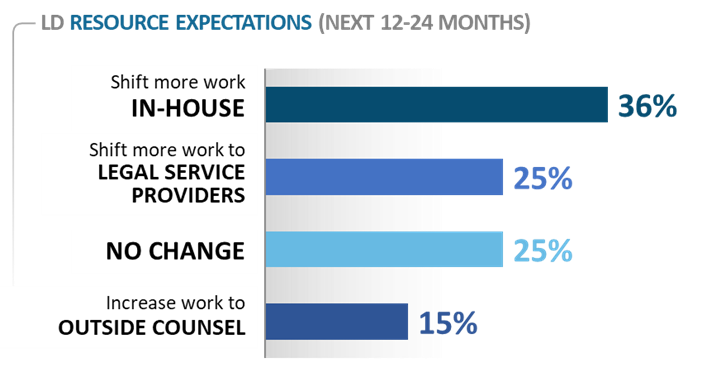 Twenty–five percent of legal departments intend to shift more work to legal service providers. The use of third-party IP services, whether via an LPO model or through more traditional fee-for-service models, is historically most closely associated with patent annuity payment services. However, third-party services have evolved and multiplied. For years now, patent annuity payment services have been critical mainstays of IP Management, as the volume of payments can be both onerous and overwhelming to law firms and corporate IP departments. Patent annuity payments are the oldest solution category in IP and were the catalyst for IP software in the first place.
Now, Chief IP Counsels must evaluate the advantages of trademark renewal services, global patent and trademark filing services, translation services, patent and trademark search services and software, docketing services, document and matter management, contract management, royalty management, anti-counterfeit service providers and an arsenal of analytics tools to support the creation, protection and extraction of value from intellectual property. At the same time, the Chief IP Counsel must manage the global legal work required to manage risk and maximize the value of intellectual property.
| Outsourced IP Services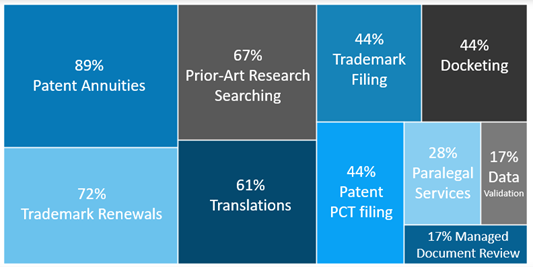 How does the market now approach the use of IP services vendors for higher-value work? Services such as prior-art research, translations, data validation and data analytics may entail a greater level of competency and sophistication. And therein lies a story. Over the past couple of years, we have seen growing competitiveness from newer, smaller, more disruptive players in the market for IP services. Often, these companies are positioned to offer higher value services at lower costs, as well as integration with their online platform or IP Management system.
Thus, there exists a tension between the traditional model, nurtured by the large annuity service providers, the sophisticated software solutions with parallel services, and the new, innovative offerings of upstarts. How—or whether—to step into the nascent territory of the disrupters is certainly a pressing concern for IP service providers, old and new.
The contents of this article are intended to convey general information only and not to provide legal advice or opinions.
Subscribe to Future Blog Posts

Article
Legal Operations
4 Mins
---

---

Article
eDiscovery
3 Mins
---