Results
Epiq Provides Contract Analysis Due Diligence Support for M&A Activity
Client need
The client has a heavy volume of M&A activity and needed a partner that could review contracts in connection with acquisitions and divestitures. The client was seeking a provider that could build a flexible, scalable, efficient and repeatable process that would avoid the need to "recreate the wheel" for every transaction.
Why Epiq
Epiq's Contract Review and Analysis team has over 30 years leading and managing complex, large-scale reviews in connection with M&A transactions. Our approach leverages leading third party and proprietary technologies, a scalable team of Contracts Review Legal Analysts and Epiq's global infrastructure.
Epiq solution
Epiq worked with the client to identify the contract provisions most germane to its needs for its acquisitions and divestitures. Epiq reviewed these provisions across all the contracts associated with the transactions. The analysis of the provisions was provided to the client in the form of structured data, enabling the client to run reports across all of its contracts and to quickly determine the contracts that contained provisions at issue in a transaction. The customized data model and overall processes developed at the outset of the first project by Epiq and the client enabled Epiq to complete all the reviews on tight time frames. The client's law firm used Epiq's deliverable to create disclosure schedules for the divestitures and to accelerate the due diligence efforts for the acquisitions.
Results and Benefits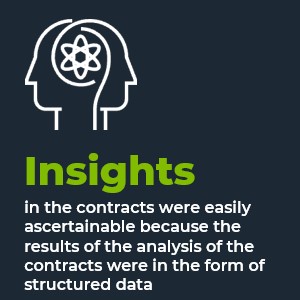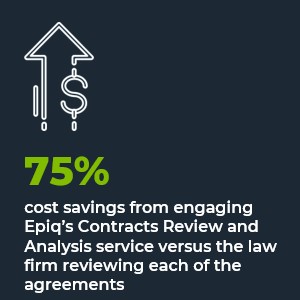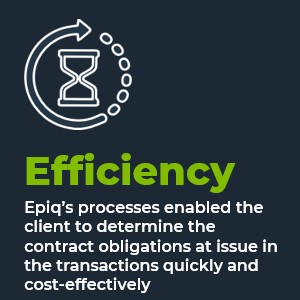 Learn more about Epiq's Contract Management Solutions
Back