 Results
Global Pharmaceutical Company Leverages Cross-functional Pharma and Antitrust Experience in Large Scale Government Investigation​
Client need
A global pharmaceutical company​ needed review of large amounts of data with a short turnaround time. ​

Our client needed to respond to an FTC CID to review and produce a wide range of discovery related to allegations of Sherman Act, Robinson Patman Act, and FTC Act violations. ​
Client Solution
Best-in-class technology, proven workflows and the ability to adapt quickly.​
Considering the anticipated high volume and fast turnaround, Epiq was able to staff a team of 75+ review lawyers with antitrust and pharmaceutical experience.​
Epiq worked with outside counsel and the vendor to prioritize relevant and least likely privileged data to meet production deadline benchmarks, structuring a QC workflow to escalate relevant and key documents for outside counsel review on an expedited basis.​
Epiq implemented a production identification in coordination with outside counsel aimed at producing large volumes of low-risk documents quickly, allowing additional time for Epiq QC and outside counsel Second Level Review.​
Why Epiq?
Epiq's specialized pharma managed review team leveraged their combined knowledge of anti-competitive issues and how they apply to pharmaceutical sales and pricing. At every level, from review lawyers to review managers, our team has extensive subject matter experience related to drug pricing issues surrounding the relationship between manufacturers, competitors, wholesalers, and PBM rebate negotiation.​
Results & Benefits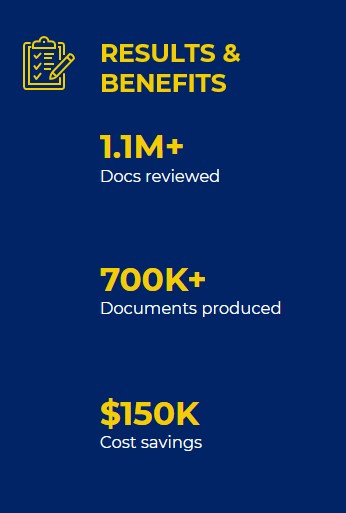 Learn more about Epiq's Pharma capabilities
Back