Angle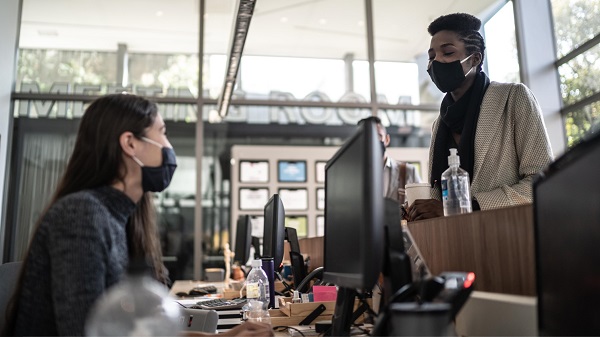 Returning to the Office: Preparing for a Hybrid Work Environment (Part Two)
As we begin to consider what law firm operations will look like post-pandemic, numerous firms are in the process of building and implementing their Return-to-Office (RTO) strategies to reintegrate attorneys and staff into their physical office locations. In last week's Epiq Angle, we discussed how many of these firms are utilizing a hybrid approach, which gives employees numerous options for collaboration and flexibility.
People & technology – the perfect combination
As a first step, firms are revising their information governance policies and implementing technology-enabled solutions to prepare for returning to the office. While technology is a key driver of innovation, it is imperative that firms do not lose the human touch they are historically known for, but rather they use technology to eliminate inefficiencies and empower employees. This ultimately creates space for higher-value contributions from team members and allows for these employees to grow into utility players. With the right combination of people and technology, firms are able to reap the benefits of technology-driven process efficiencies, with an added layer of highly skilled support staff who understand the nuances of their business.
For example, one trend that was expedited by the pandemic was the upskilling of administrative staff, as many of the traditional tasks associated with legal administrative support staff are no longer applicable due to technology innovation and the changing support requirements of junior to mid-level attorneys. However, by empowering employees with technology, opportunity for these roles has expanded greatly. What once was a legal secretary is now a highly skilled legal administrative assistant (LAA) or legal support assistant (LSA) or even project manager with a paralegal background. These shifts provide a different type of support. In the future, it is likely that these roles will have more client interaction, will be research-forward, and are more likely to be billable. In a hybrid work environment, firms are able to focus on using technology to maximize employee output and productivity.
Why hybrid operating models work
The pandemic created a critical shift in the way people work, and many firms were forced to move into remote work environments. But what surprised law firms the most? That flexible working environments were still very effective for certain roles.
Research performed by Epiq found that many organizations are planning to have professional staff come into the office on rotating schedules, while support roles such as accounting, IT support, and high-level records management will continue to work remotely or potentially be outsourced to centers of excellence or global resource centers. Some firms had already begun incorporating remote workflows, though conditions created by the pandemic have forced the remaining skeptics to realize the advantages.
By reimagining these processes, firms are able to unlock undiscovered value by focusing on upskilling their people and driving higher value over time. Physical office locations are used for collaboration and in-person meetings, and employees reap the benefits of working from home but are not deprived of social interaction with their peers and colleagues.
As more firms and other legal organizations adopt hybrid approaches and implement technology-enabled solutions, legal support staff roles will continue to evolve. To succeed in a hybrid work environment, firms will need to continue to optimize talent, enhance efficiency, and embrace automation.
The contents of this article are intended to convey general information only and not to provide legal advice or opinions.
Subscribe to Future Blog Posts

---

Article
Bankruptcy
2 Mins
---

Article
Regulatory & Compliance
3 Mins
---