Results
Epiq drives significant process and cost efficiencies for healthcare client using advanced analytics
client need
Quickly deploy a low cost review service

Our client, a managed healthcare company, had a relatively small number of documents to review, only 18,539. They wanted to accomplish two goals: first, to review the material quickly; and second, to deploy an effective, cost-efficient, and defensible technology tool to prioritize the review and eliminate nonresponsive content.
why Epiq?
The client was convinced to use Epiq after reviewing our history in the legal solutions industry, specifically in document review. This coupled with Epiq's team of experts assured the client that we had both the experience and capabilities to address their needs.
Epiq Solution
Utilize Relativity Active Learning

Counsel reviewed an initial control set of 443 documents, which yielded a responsiveness rate of 3.84%. The Epiq team estimated that there were 711 responsive documents in total. Each day, new documents and their families were selected for first-level review batching based on their Relativity Active Learning score. Documents that were reviewed by counsel for quality control were used to further refine the Relativity Active Learning tool and update the scores.

After the fourth day of review, the responsiveness rate dropped to 3.4%. At that point, the Epiq team had identified 713 responsive documents. We then performed an elusion test, which returned zero responsive documents.
results and benefits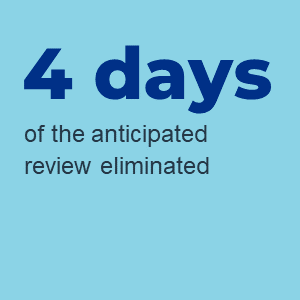 Learn more about our Data Analytics and Reduction Services
Back