Angle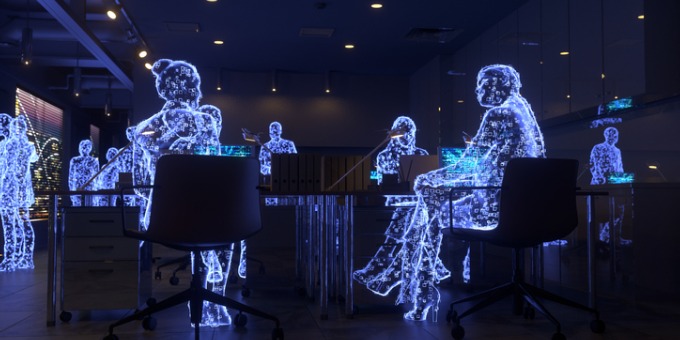 The New Era of Legal is Here: Are You Ready?
The sky is falling! AI is taking the legal industry by storm and lawyers will soon be extinct! This was a common refrain amongst legal professionals in New York last week at the 2023 Legalweek conference. The good news? This is absolutely not true. Although the conference kicked off with a keynote speaker known for his famous role in the renowned sci-fi show Star Trek, we are thankfully not living in a sci-fi universe – even if many lawyers fear that to be the case. The expert panelists at Legalweek assured industry professionals that even the newest technology like generative AI cannot be a substitute for the legal mind. Machines cannot replace a lawyer's analytical skills or human judgement; however what technology can do is help legal departments automate routine tasks in a more efficient manner and allow legal professionals to concentrate on higher level work.
The legal industry is in a state of disruption - and disruption can be scary. At Legalweek's annual state of the industry presentation, there were frequent reminders that digital is no longer a choice in 2023. Everyone in the legal community is in some stage of their digital transformation journey. The technology is available today and will continue to evolve, but throughout this journey it is the right combination of people, process, and technology that will be key to successful outcomes. While tech is important and will continue to open new opportunities for legal departments and law firms, it is only a tool, not the end game.
Embracing Change
Now is the time for the legal industry to begin to reassess how the law is practiced and create a coherent strategy around using AI to tackle challenges and increase efficiencies. That starts with top-down support and bottom-up buy-in throughout the enterprise. Having the right talent internally is important, but partnering with providers and consultants that can fill gaps and effectively implement the tech is the key to effective change.
Three major themes from Legalweek are worth considering as the industry navigates this new era.
#1: AI is a disruptive force in the legal space and lawyers need to prepare.
A new survey by LexisNexis demonstrated that 86 percent of lawyers were aware of generative AI and over half used or plan to use this tool for work purposes. Additionally, 84 percent of lawyers surveyed felt that generative AI would increase efficiency for their legal team. Even with all of these high stats, only 39 percent agreed that it will significantly transform the legal practice. This mirrors what happened at Legalweek, with ChatGPT unsurprisingly winning the MVP for most explored topic during the conference. While there was a lot of excitement and willingness to learn more, there was also hesitation and fear.
What is clear is that large language models like GPT-3 and bots like ChatGPT are here and evolving quickly. The time is not far off when providers will start integrating this tech into their existing tools and clients will regularly use these tools for business purposes. Lawyers need to be proactive and keep tabs on developments and find ways to close the knowledge gap surrounding AI tools. Tech is not one size fits all. The right people need to vet the technology ensuring it benefits the organization as a whole. Working with various internal stakeholders to understand requirements can ensure the right technology is chosen for the task. Also important is understanding that technology does not always work on the first try. It is an iterative process that takes time to train both the system and end users.
While there was talk about potential use cases for generative AI – from automation to negotiation playbooks – the focus was really on the people and processes needed to get there. There has been a noticeable shift over the last decade with more lawyers embracing AI tools in several areas including eDiscovery, contract review, and compliance. The benefits are plentiful – cost optimization, improved outcomes, retention enhancement, and more. Similar benefits are likely to unfold with generative AI. This will require a deliberate process of evaluating impacts and opportunities by bringing in consultants who can help decide where AI tools may be beneficial and partnering with providers who can help navigate their use in areas such as eDiscovery collection.
#2: Commitment to change management is key to successful transformation.
The practice of change management is not new, but it can be difficult to implement effectively. At its core, change management is simply the approach an organization takes to managing change during times of transformation. A mix of new ideas, strategies, and oversight is necessary to manage change during a time of disruption. This should be a top priority for organizations navigating the era of generative AI, and the focus should be on who the right people are to drive change within an organization. Look for people that not only know the tech, but also how to implement it effectively on a broader level and for case-specific needs, educate internally, and demonstrate value to stakeholders.
With legal currently being a multi-generational profession, change management related to new tech adoption can be tough. Having lawyers that run the gamut in age is a hurdle. There are those that do not want to change their processes that have worked for years; young professionals that are curious about tech and starting to demand change; and those across various age groups that are dipping their toes in the water but still have hesitation. Legal as a whole is starting to embrace new ideas, but lawyers are busy and may not be willing to devote the time it takes to see true ROI from a tool. This is where hiring outside parties to navigate change and illustrate how dividends can pay off down the road is key. Explore third parties that can perform legal spend analysis and advise on budget planning to help obtain approval from stakeholders to increase legal tech spend.
#3: Regulatory compliance is a growing concern.
Another big piece of the puzzle is compliance. AI tools inevitably invoke privacy and data security concerns. In addition to privacy regulations around the globe, regulation of AI is starting to materialize. The rise of generative AI will most likely accelerate regulation calling for transparency and accountability, so lawyers need to partner with experts that can navigate these complicated waters and drive compliance as the adoption of these tools increases.
By now, every organization should have regulatory compliance and data security programs. If roles are not created internally and there is a lack of outside expertise to turn to with questions, this will become increasingly hard to manage. The use of new tech always brings risks that organizations must evaluate before investment. Beyond education on new privacy or AI laws and trending cyber-attack methods, it is crucial to have policies in place around how to comply with various regulations or respond to a breach. On top of this, lawyers have an ethical obligation to their clients to keep information confidential.
Conclusion
So, will machines replace lawyers? The answer is no. However, AI opens up a lot of opportunities for meaningful change. Right now the focus should be on tech education, partnering with the right people, and improving processes. The better technology the legal team has on hand, the better equipped they will be to provide meaningful value to the business. Legal is moving away from being the "department of no," to the department of innovative ideas.
The contents of this article are intended to convey general information only and not to provide legal advice or opinions.
Subscribe to Future Blog Posts

Article
Legal Operations
4 Mins
---

---

Article
eDiscovery
3 Mins
---