Building Trust in AI for Legal
Today, corporate legal departments and law firms are evaluating new ways to use AI and Generative AI to deliver fast, efficient, and accurate outcomes to their stakeholders.
As early users of AI, Epiq integrates purpose-built AI across our Legal Service Management Framework, including our Discovery, Knowledge Management, Contracts Review, and Compliance offerings.
To assist you in deciding where to integrate AI into your legal and compliance work, Epiq has a fully staffed AI Practice Group. Our team will help you make informed decisions and build trust in the AI models you implement.
AI Integrated Within Our
Legal Services Management Framework
Commercial and Contracting
Structured data set creation
Large-scale contracts review
Categorization of Outside Counsel Guidelines
Regulatory and Compliance
Pre-built subject matter AI models with proprietary search
Review high transaction volumes
Trendspotting and pattern recognition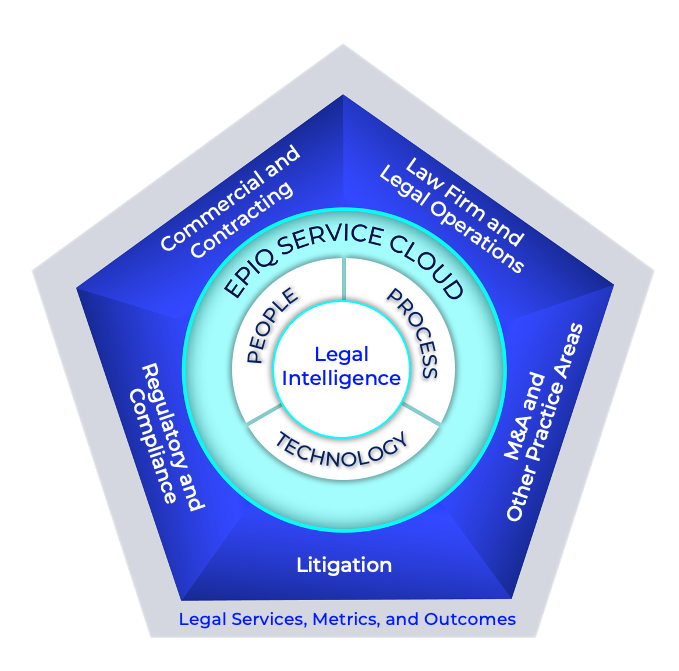 Legal and Law Firm Operations
AI Solution Design and Planning
AI for Knowledge Management
Data Architecture and Preparation for AI Solutions
Training Set Identification
M&A and Other Practice Areas
M&A Contracts Due Diligence and Post-Deal Integration
Litigation
Use of TAR for predictive coding, review, culling, and highlighting content
Pre-built AI models to accelerate review process
Turn your data set into a knowledge set at the outset of the matter
Identify and redact privileged, personal, and sensitive information
What's Next for Epiq and Generative AI
To build trust in AI, we plan to establish and preserve ethical walls that reduce risk and AI hallucinations – generally defined as generating false information.
Using retrieval augmented generation, we can define and limit a search area for more accurate results.
The addition of these best practices will make automated summarization using Generative AI a viable next-gen Epiq client deliverable.
Meet Members of Our AI Legal Services Group
Epiq's diverse, global team of lawyers and technologists have an unparalleled track record of managing large data volumes utilizing industry-leading technology coupled with decades of practical experience.
People
Legal and technical project managers
Technology and workflow experts
Data science and data analytics consultants
Process
Experts in digital transformation for legal
Lean Six Sigma approach to quality and process improvement
Workflow automation experts
Technology
Strategic focus on ease-of-use and productivity
Case Insights™: Early case assessment and development
Metrics that Matter: Legal performance management program